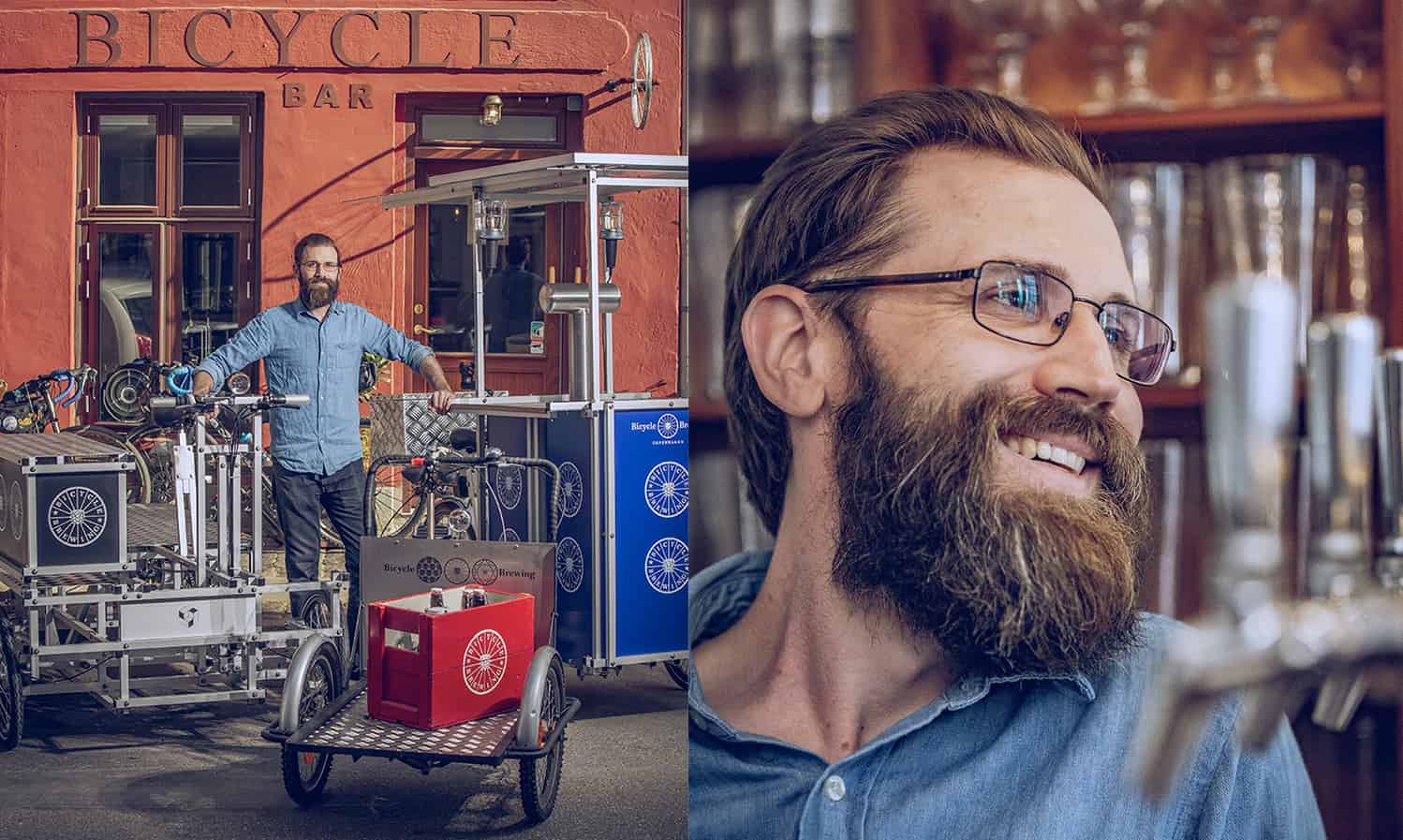 This week's Københavnersnude is Alex Kunigenas, founder of Bicycle Brewing, Brewery Taproom, and Cidery and Bottle Shop. Alex started the brewery in 2016 with his wife Kristina after having brewed together as a hobby for over 14 years. In 2018 they opened the Bicycle Brewery Taproom and in 2020 the Bicycle Cidery and Bottle Shop. Here you can find all the beer they brew and also their own cider made from organic fruit from local farmers.
Fotocredit: Martin Paldan
LoveCopenhagen: What are you up to at the moment?
Alex: I own and run a local beer brewery (Bicycle Brewing) here in Østerbro with a taproom at Ålborggade, a newly opened bottle shop at Århusgade, plus a couple of custom bikes that we use as mobile bars for festivals and private parties. This means my days are split between brewing, bottling, and managing the day-to-day. But one of the best parts of this business is it gives me the opportunity to meet a lot of interesting people doing cool and unusual things all around the city.
LC: Where do you live?
Alex: Considering I typically start a brew day at around 6.00 am in the morning, luckily not far from work. We live at Willemoesgade also here in Østerbro.
LC: Where do you go for walks?
Alex: We've always enjoyed taking long walks through the city, with the route changing as we've moved to different neighborhoods. Now our weekend walks are typically around the lakes or through Fælledparken, or if we're feeling a little more adventurous, out at Nordhavnstippen where a windy winter day can feel pretty wild even though just a short distance from the city.
LC: Where do you drink coffee?
Alex: Most days it's a freshly ground drip coffee at home, but my two favorite spots in the neighborhood are Original Coffee and KaffeStuen.
LC: Where do you go out to eat?
Alex: These days of course nowhere, but we do some take-out from local places and I have my favorites for lunch, recently a fresh sandwich from Kulinaris or a bowl from Olioli. When the lockdown lifts, I'm looking forward to going back to Laundromat Café, Café Pixie, and Café Bopa, all good local places to grab some food and a beer, and great for kids, especially Laundromat.
LC: Where do you party?
Alex: Running a business with a 3,5-year-old son at home, partying is sadly a thing of the past. But what I miss most are live music and festivals and hope that those will be back soon.
LC: Where do you feel inspired?
Alex: Brewing is a full-day affair here at the brewery with long periods of downtime. While I often keep busy (there are almost unlimited things to do, repair, or build around here), I also have a lot of quiet time to myself, this is when I come up with some of my best and most creative ideas.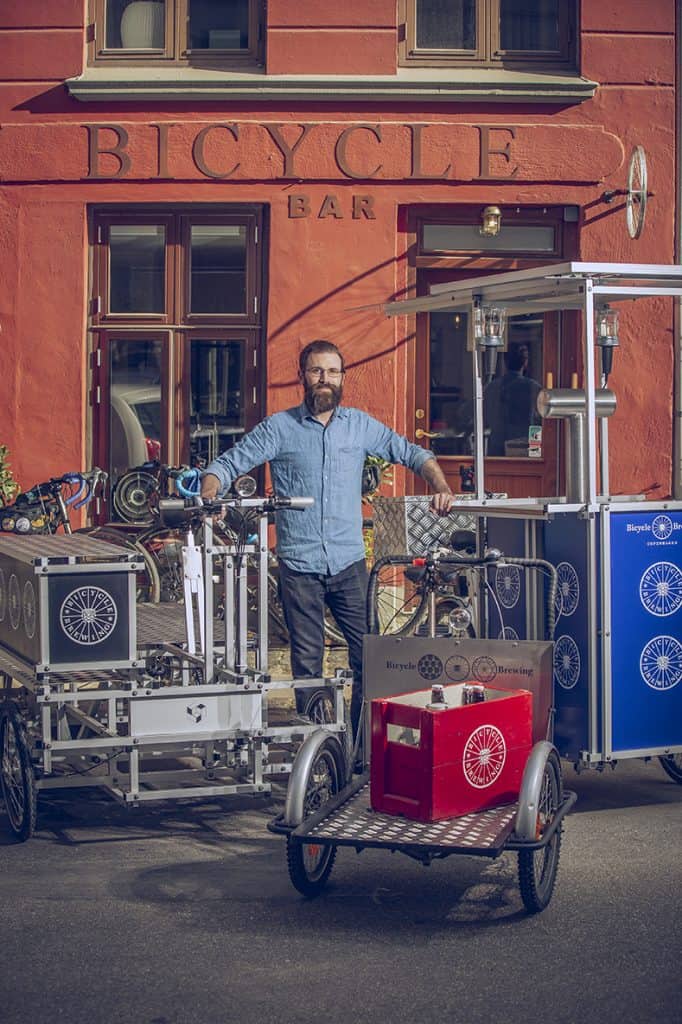 LC: What is your favorite place in Copenhagen?
Alex: Bicycle Brewing's taproom of course. Our bar and taproom feel like a second home to me, and when I can, I love to have a beer (or few) here. Every time I do, I see friends, locals and know almost everyone by name. It's like my own personal Cheers (sorry for the dated reference). Come join me sometime for handcrafted beer in the city's smallest (and maybe coziest) brewpub.
LC: Where/when did you last fall in love with Copenhagen?
Alex: Just this last weekend, on a cold but spectacular sunny day when we got to play on the ice with our son at Sankt Jørgens Sø for the very first time.
LC: What is your best memory of Copenhagen?
Alex: Coming from California, the long summer days were new to me and the experience of walking home at sunrise from a night out is a truly unusual and beautiful memory for me.
LC: Your recommendation for the best experience in Copenhagen?
Alex: Our favorite new experience is out in Nordhavn where you can find one of Thomas Dambo's trolls and Copenhagen's only hop farm run by our friends Byhumle. After an afternoon helping at the farm, there is nothing quite like having a beer with a view of "Captain Nalle".
LC: Even though Copenhagen is great, you now have the opportunity to add the one thing you think the city lacks – what is it?
Alex: Although we're lucky to have a number of large parks throughout the city, I think we really need more social and green spaces. I am often struck by how our public space is heavily prioritized towards cars (parked or driving), even in a city that prides itself on biking culture and strong environmental policies. A small start could be turning some neighborhood parking spots into areas with benches and trees, and blocking some neighborhood streets to normal car traffic, transforming them into open spaces, squares, or parks.
If anyone from the Kommune is reading this, you can feel free to start the experiment with the street in front of our taproom, Ålborggade :). It is super small, serves no required traffic purpose, is one-way, and only one block long (between Østerbrogade and Randersgade). It has very narrow sidewalks and no bike lanes, but of course car parking on both sides of the street.
So in other words, it makes a fairly inconvenient, small, and crowded street out of what could otherwise be an amazing little park. It seems to me that as cities compete to be attractive places to live in the future, we need to reconsider the assumption that everyone should be able to drive to and then park a car at their front door. And while the loss of parking will be inconvenient to some, the benefits of a more beautiful, social, and green city, will be gained by all.
LC: Your soundtrack to the city?
Alex: I listen to my CD collection (yes, we still have those) every day at work. Playing right now is Dreams by The Whitest Boy Alive. I think that would make a pretty good soundtrack.
[ot-video][/ot-video]
Thank you Alex for sharing your Copenhagen with us!
Read more about Bicycle Brewing here or check out their many projects and follow them on their Instagram @bicyclebrewingcopenhagen.