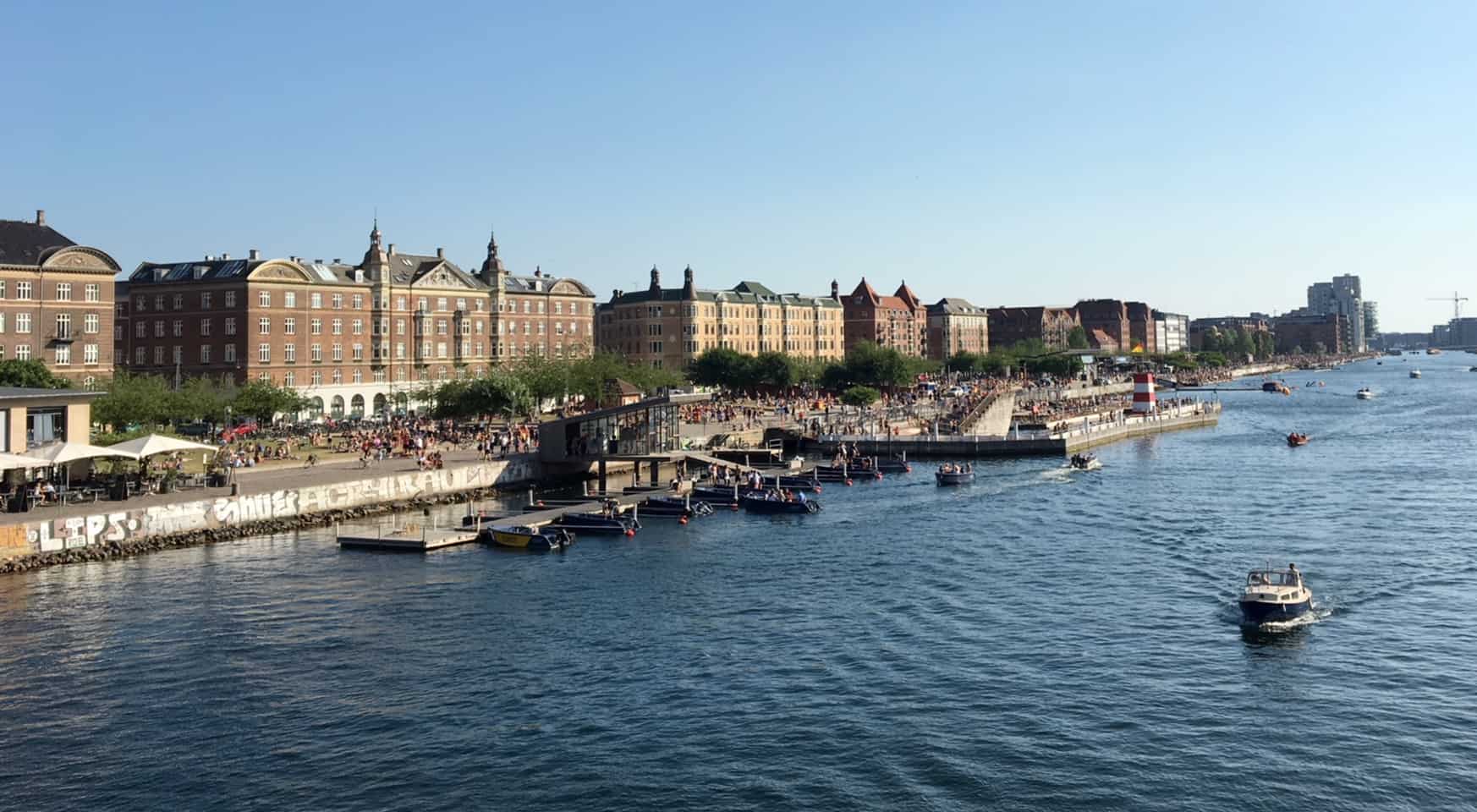 Copenhagen has been named the best city for swimming and we, of course, understand why. Since Copenhagen is surrounded by clean water we have some of the best swimming spots. You can take a swim in both the bathing zones, harbour baths and the sandy beaches on a hot summer day.
By Louise Bro
We are fortunate enough to be surrounded by clean water in Copenhagen. All year round you can go swimming in the harbour and the beaches and it's simply the best way to cool down on a hot and sunny day. But be aware that even though you may see many locals jumping directly into the water from the docks in the harbour – it is only legal to swim in the official harbour baths and bathing zones. Swimming anywhere else in the harbour can issue a fine from the police.
HARBOUR BATHS

There are three harbour baths in Copenhagen harbour, which are open from June 1 to September 30, and are overseen by lifeguards from 11-19. It is free to use the harbour baths, and the water quality is continuously checked by the environmental control. The harbour baths offer open-air pools and in most cases also room for sun-bathing and lounging on a boardwalk or grass area nearby.
Islands Brygge
The harbour bath at Islands Brygge has a 75-meter swimming pool, a diving pool with springboards and two pools dedicated to children.
WHERE: Islands Brygge 14, 2300 Copenhagen S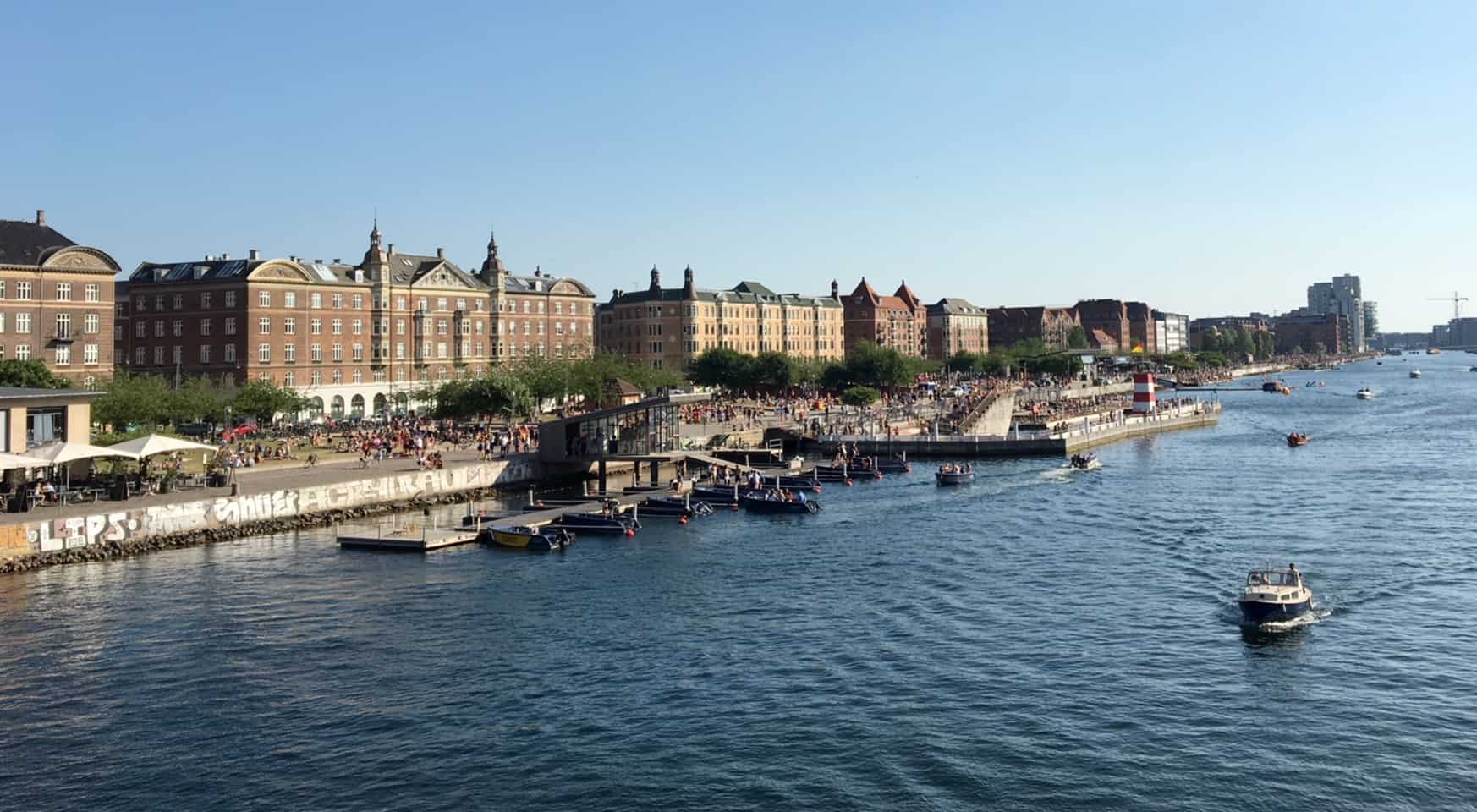 Fisketorvet
The harbour bath on Vesterbro right by Fisketorvet has a 50-meter swimming pool a diving pool with springboards and one pool for children.
WHERE: Kalvebod Brygge 55, 1560 Copenhagen V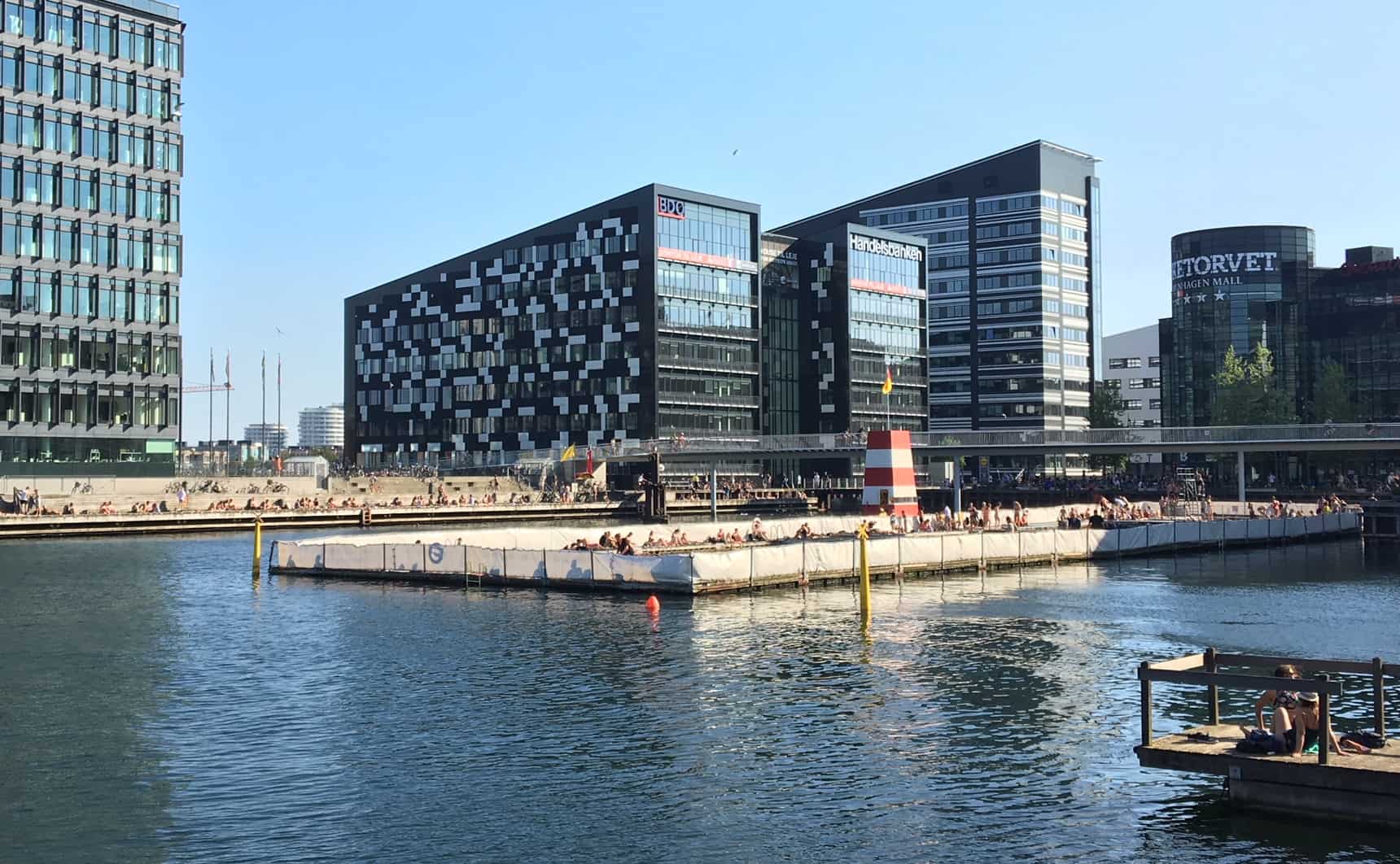 Sluseholmen
The harbour bath at Sluseholmen in the South Harbour of Copenhagen has a 25-meter swimming pool, springboards and two pools for children.
WHERE: Ben Websters Road 69, 2450 Copenhagen SV
BATHING ZONES

Even though Copenhagen harbour is quite busy with boats, kayaks and much more – there are five official bathing zones, which are restricted areas where bathing is permitted. These are usually only a wooden boardwalk with a ladder to get out of the water, but since the area around the bathing zone is marked often with yellow buoys, boats can easily see the people bathing. The bathing zones are marked with floodlights, buoys, rescue equipment and a Bathing Allowed sign. The bathing zones are not overseen by lifeguards so please be advised that swimming is at your own risk.
Halfdansgade – 2300 Copenhagen S
Very close to the harbour bath on Island Brygge is also a bathing zone clearly marked with yellow buoys – on the really crowded days in the harbour bath, this might be a better option for a quick swim.
WHERE: At the end of Halfdansgade on Islands Brygge
Bølgen / Kalvebod Brygge – 1570 Copenhagen V
The beautiful bridge and promenade on Kalvebod Brygge right by the waterfront called Bølgen (Wave) has long been a popular spot for bathing, but it wasn't officially allowed until August 2019. After a nice swim there is plenty of spots to lounge on the promenade and enjoy the sun.
WHERE: Bølgen (the Wave) on Kalvebod Brygge.
Havnevigen – 2300 Copenhagen S
This bathing zone is well hidden away at the end of Islands Brygge on Amager and also features an artificial beach. The beach is quite small and located in the residential area Havnevigen so the atmosphere is quite intimate and cosy.
WHERE: Just by Viggo Kampmanns Plads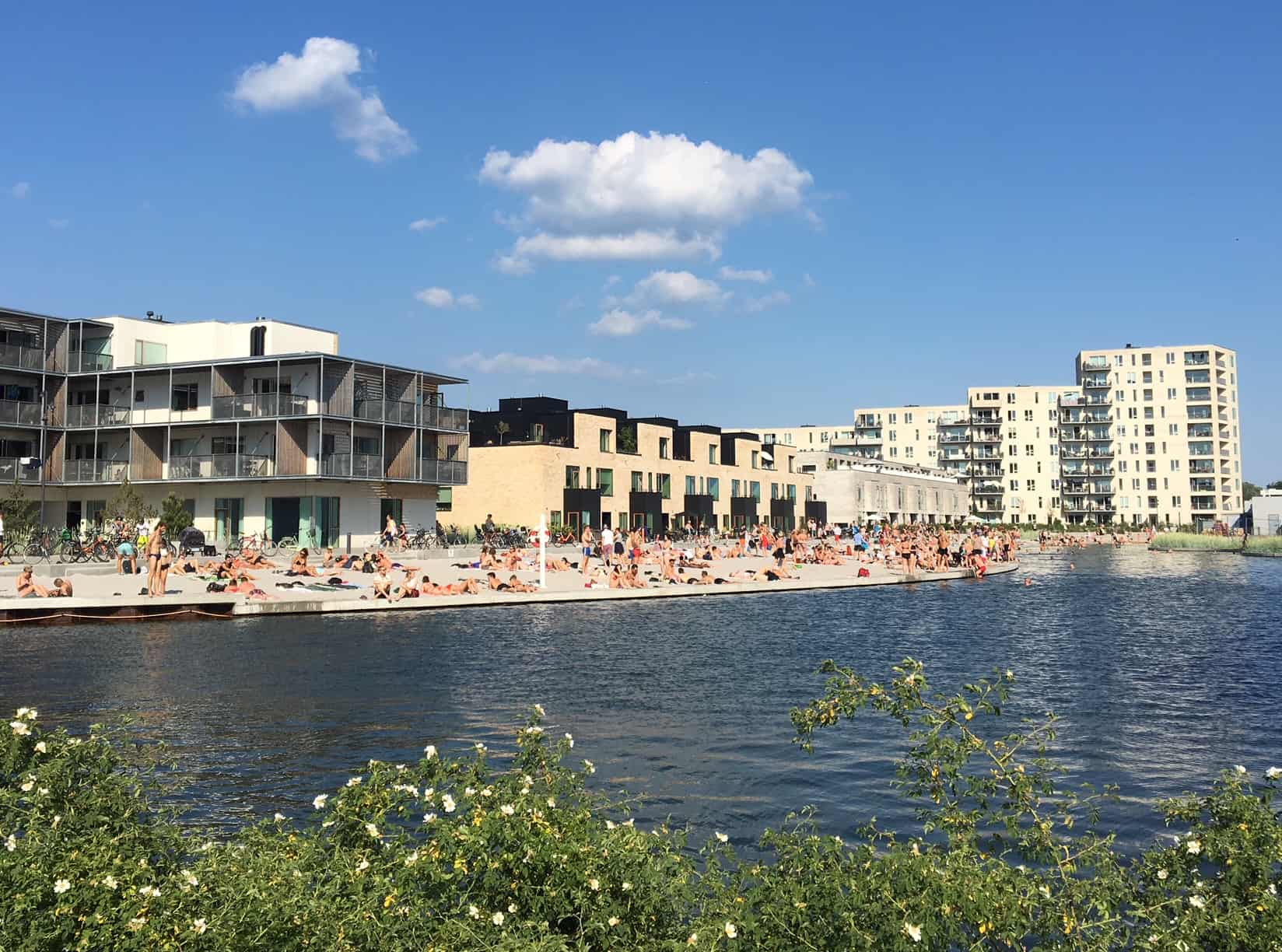 Halvanden – Refshaleøen
If you're looking for a cool Ibiza feel the bathing zone by the beach café Halvandet is the spot for you. The café and bar has cold drinks, cool music, sand and a bathing zone in the harbour – and you can even take the harbour bus directly there.
WHERE: On Refshalevej 325 at Café Halvandet
Sandkaj – Nordhavn
One of the newest bathing zones is located in the new area of Copenhagen called Nordhavn. This areas features stunning architecture and also a 400-metre long boardwalk with a bathing zone.
WHERE: At the end of Sandkaj –  no. 27)
Søndre Refshalebassin – Refshaleøen
This newly opened bathing zone is located in the urban and rustic area of Refshaleøen – just a few metres away you can also check out restaurant and café La Banchina, which has a small bathing area, delicious food and drinks.
WHERE: Refshalevej 151, 1432 KBH K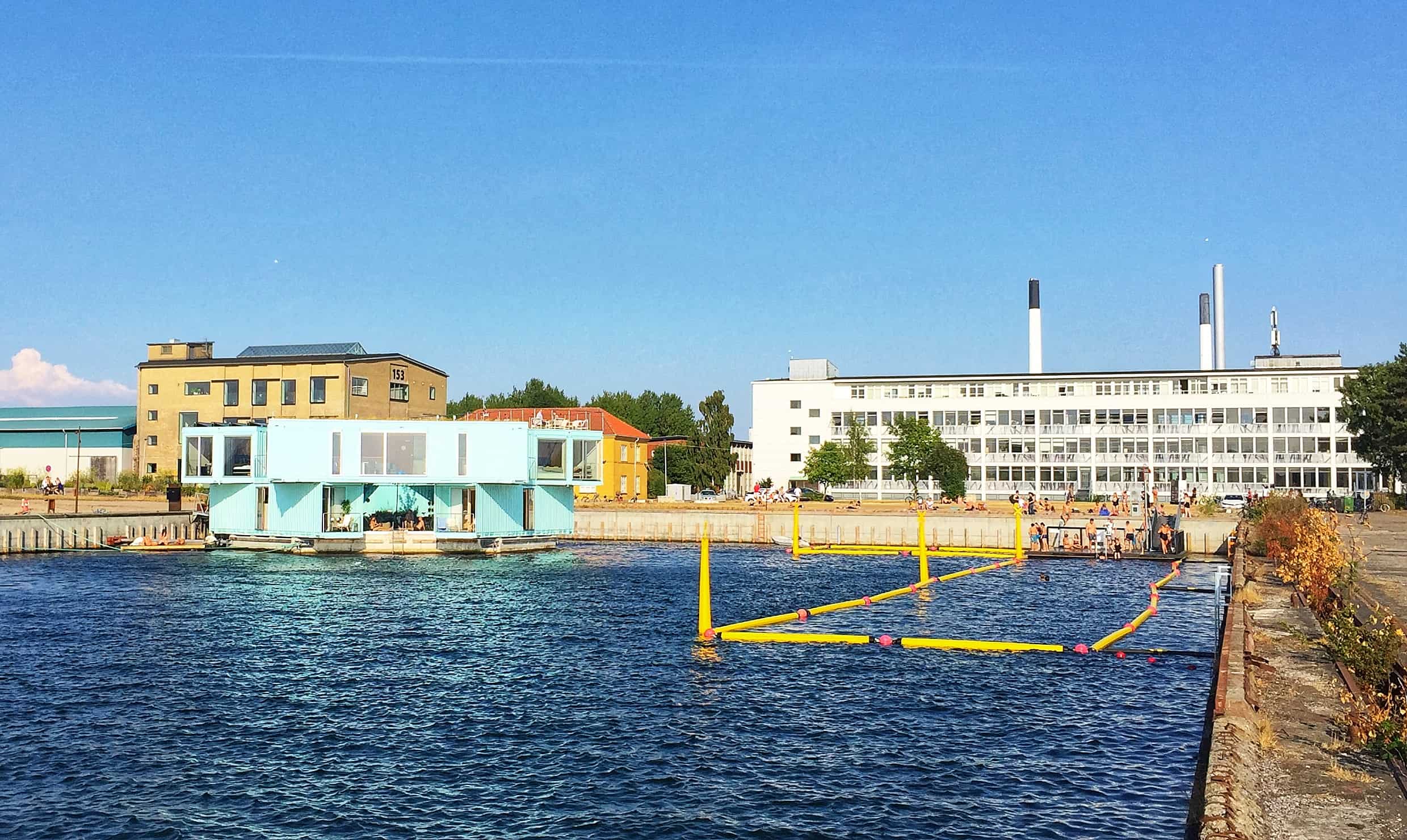 BEACHES
If the harbour baths and bathing zones in Copenhagen Harbour are not your thing, head out to the sandy beaches around Copenhagen. The beaches in close proximity of the city are actually artificial but nevertheless, you will find beautiful sandy beaches and clean water with a direct view to Øresund.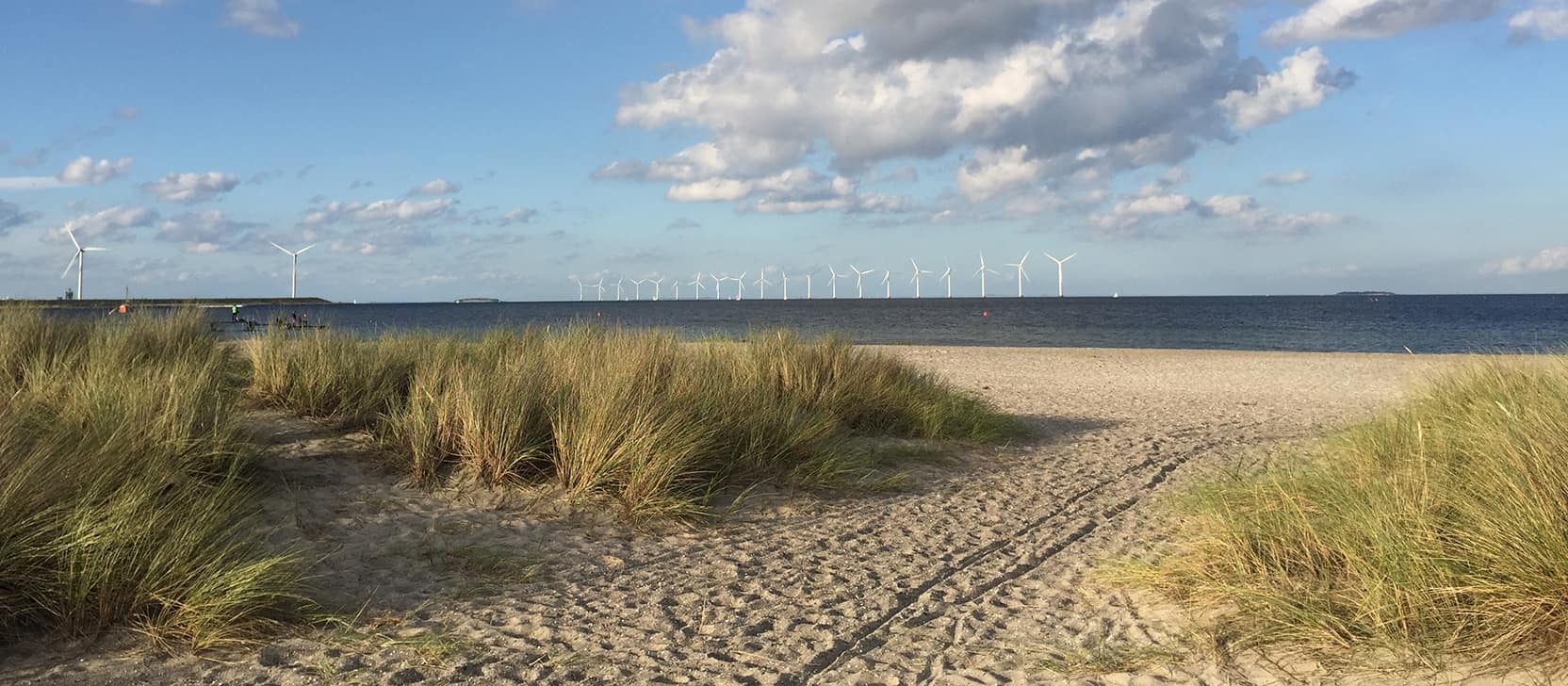 Copenhagen's largest beach, Amager Beach Park covers more than five kilometres and features a park, a lagoon and a white sandy beach. There is also a long boardwalk and five bunkers with food, ice cream and cold refreshments as well as restrooms. Svanemølle Beach on Østerbro is not nearly as large as Amager Strandpark and is quite busy on hot days – but there is a 130-metre pier that you can also swim from.